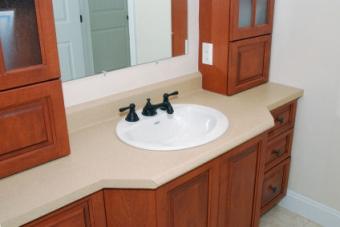 More than simply a sink base and some storage, bathroom cabinets can help set the tone for your bathroom design. From sleek modern styles, to heavy furniture pieces, there are numerous types of cabinetry available today that will suit any space.
Types of Bathroom Cabinetry
Cabinets and other furniture for the bathroom have expanded with the size and use of the bathroom over the years to become an integral part of the design. While bathrooms once only had a porcelain sink, with little to no storage, today's bathrooms can include a lot more, including multiple types of cabinetry.
Sink Base Cabinet
The sink base cabinet is the most standard cabinet available for a bathroom. It can range in size from 18-inches by 18-inches for small baths, to double sink cabinets that measure 60-inches in length and 24-inches in depth.
The sink base cabinet provides minimum storage, along with some counter space. Every bathroom cabinet design begins here; drawers, linen towers, above counter towers and additional door fronts are all added onto the base cabinet.
Double Vanities
The double vanity is a newer addition to the cabinet line. Consisting of two sink bases at minimum, it can be expanded to include multiple drawer banks, pull out laundry hampers, sink topper cabinets and even built in medicine cabinets and mirrors. Standard sizes for double vanities include 60-inch and 72-inch variations, but can be customized to become much larger as well.
Linen Towers
If the bathroom doesn't have built in linen closets, a linen tower that matches the rest of the bathroom furniture can be a great addition to the space. Full size towers begin at 15-inches in width and can be as wide as 24-inches as well. They may include upper and lower doors, drawer banks, shelves, pull out baskets and interior, full length mirrors.
Medicine Cabinets
The medicine cabinet is an important part of any bathroom design. There are three basic types, each available in a wide range of styles:
Recessed mount
Surface mount
Semi-recessed mount
A recessed mounted cabinet fits into your bathroom wall between the studs. It may be flush with the wall, or extend outward about an inch. Surface mount cabinets hang on the wall, rather than going in it, while semi-recessed cabinets extend part way into the wall, making them a good fit for shallow walls.
Most "water walls" or walls where plumbing is run are 6-inches in depth, making most spaces ideal of recessing a cabinet above the sink or toilet. However, medicine cabinets can be hung anywhere in the room, including on walls adjacent to the vanity mirror or directly next to the shower.
Vanity Tables
For large master bathrooms, a vanity table can add style and additional storage and counter space to the room. Vanity tables consist of a shallow front with drawer banks on either side. A counter stretches the entire length, and the space below remains open for a chair or legs. Typically additional mirrors or medicine cabinets are mounted above them.
Other Cabinets
These are by no means the only cabinets that can fill a bathroom. In addition, a well appointed bath may also have:
Half-towers
Linen toppers
Freestanding drawer banks
Corner cabinets to join two runs of cabinetry or two sinks together
Roll out cabinets that sit beneath an open countertop
Bathroom Cabinet Styles
There are as many colors and styles of bathroom vanity cabinets as there are bathrooms to put them in. Most, however, can be broken down into a few basic categories.
Modern Design
It is not unusual to find modern cabinets that:
Are wall hung
Have sleek, smooth veneers and clean lines
Have slender, stainless steel legs, rather than resting on the floor
Are available in a wide range of bright colors such as orange and blue, as well as traditional wood colors like cherry or maple
Visit DecoLav and NeoMetro, for a modern bathroom furniture design.
Traditional Design
Traditional cabinets for the bathroom can be both functional and beautiful. They come in a wide range of styles that may include:
Raised panel doors
Shaker style doors
Curved front sink bases
White, cream and black thermafoil finishes as well as traditional solid wood
Visit Vanico and Bertch for a more traditional design. Both companies specialize in cabinets that can be semi-customized to fit any space.
Furniture Style
Furniture style cabinets for the bathroom are ideal for powder rooms and upscale master bathrooms. They may have:
Carved feet and an open bottom design
Wooden tops made of the same material as the rest of the vanity
Carved or handpainted face cabinets
For a wide selection of furniture style bathroom cabinets visit Empire.
Custom Furniture
If you have unusual sized bathroom, a design in mind that isn't found in ready-to-ship or semi-custom bathroom lines, consider having custom bathroom furniture built. Bathroom furniture and cabinets can be built the same way kitchen cabinets are; select the box, doors, color, finish and sizing to complete the bathroom furniture of your dreams.
Visit kitchen and bath cabinetry company Omega Cabinetry to get a custom bathroom designed. Keep in mind that while semi-custom cabinets may be available within 2 to 12 weeks, custom cabinets may take as long as 16 weeks to complete.
Selecting a Cabinet for Your Bathroom
Your bathroom cabinet is just one component of the bathroom design. Select the overall style of cabinet first, then keep basic colors and sizing in mind while you select counter and tile materials. In the end, your new cabinet should fit in seamlessly with the rest of the bathroom design, while providing you with plenty of storage, style and years of use.