Bathroom Tile
Tile is one of the most crucial components in a bathroom design. It can transform your bath into a private retreat, or into your own personal sitting room.
Whether your tastes run to the contemporary, like this oversized marble, or to the classic, tile can capture the look you are after.
Mosaic Bathroom Tiles
Mosaic tiles are small tiles measuring 2-inches or smaller. They come in a wide variety of material and work well in large and small bathrooms. Depending on the pattern, they can also fit into traditional and contemporary bathrooms as well.
Textured Porcelain Tiles
Porcelain tiles come in a wide variety of textures, patterns and surfaces. Some are designed to look like fabric, metal, leather or carpets.
These textured tiles add subtle detail to your shower walls.
Glass Tiles in the Bathroom
Glass tiles reflect light, which can help to brighten a small or dark area, such as a shower. Glass is also extremely low maintenance; clean it with window cleaner or white vinegar.
Leather and Metal
For a truly modern bathroom design, try combining some leather-look porcelain tiles with metal divider strips as accents.
The contrast makes a focal point and helps to visually elongate the space, making the room seem much more open that it really is.
Use Large Tile in Small Bathroom
One creative use of tile in small bathrooms is to use larger tiles to create the illusion of a large space. Use larger tile throughout the room to make it appear much larger than it is.
Use Bright Colors for Kids
If you're designing or redesigning a children's bathroom, another great option is to opt for brightly colored tiles.
Children love bright colors, but if you decorate the walls in tiles that are themed for infants or young children, your child may outgrow the bathroom design. However, installing brightly colored tiles appeals to both young and older children alike.
Contemporary Bathroom Tiles
If you want to create a contemporary bathroom design, opt for tiles that create the appearance of leather, or go with glass or metal tiles that burst with color and reflect the bathroom lighting in many directions. These tiles serve a dual purpose of offering an easy to clean surface, but they also present a bathroom space that is bold and stunning.
Natural Stone Bathroom Tile
Create a spa-like feeling in your bathroom with natural stone. Stone comes in an endless variety of color and pattern.
Because no two tiles are ever alike, a stone bathroom gives you soothing variation and subtle movement in color between the tiles.
Use Marble for Formal Bathrooms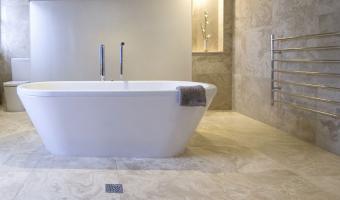 Use polished marble to create a very formal atmosphere for a bathroom. Cream colored or white polished marble work best as they brighten up the room and make any bathroom feel larger.
If you want to elevate the formality of the bathroom even further, consider complimenting the cream marble tiles with a mosaic tile design strategically placed on the floor in front of the tub or the sink.
Rug Mosaic Tile
Mosaic tiles can be used to form "rugs" on the floor of your bathroom. Any mosaics can be inlaid into a larger tile floor; use a different color or material for contrast, or have a custom made picture to become a focal point in the room.
Painted Tiles
Tiles don't have to come in solid colors. They can be painted with designs that interlock into one another to form unique paintings and artwork on your walls.
Flowers, vines, repeating patterns and ocean scenes are all great choices for a bathroom design.
Mosaic Wallpaper
Mosaic tiles don't have to be confined to the floors or showers of your bathroom. Consider using a mosaic tile wallpaper as an accent wall instead.
Mosaic wallpapers are available in an endless array of different prints from contemporary to traditional. They primarily use glass tiles for the light reflection, but stone and ceramic can be used as well.
Onyx
If you want something truly special for your bathroom tile, look no further than onyx. This translucent marble has wild color variation and transmits light. Using it behind your bathroom sink adds a soft glow to the bathroom, and to your face in the mirror.
For more bathroom tile ideas, check out this slideshow on bathtub tile.