Double Sink for Bathrooms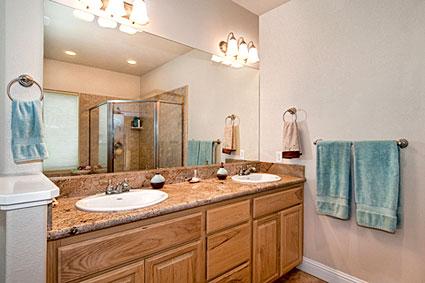 If you're thinking of updating your bathroom and it's large enough, consider changing out your single sink vanity and replacing it with a double sink for bathrooms.
Double Sink for Bathrooms is More Functional
We stand at the sink to wash our faces, brush our teeth, shave, style our hair, put on make-up and more. Time constraints when getting ready in the morning can create quite a brouhaha within the household when more than one person needs to get ready for school or work and is clamoring for the use of the sink in front of the bathroom mirror. That's right; the issue isn't so much fighting over the shower or tub. It's sink time in front of the mirror. Having a double sink installed can help alleviate bathroom congestion.
Double Sink Vanities
Today's selection of vanities offers a double sink for bathrooms in a variety of shapes, sizes and colors while providing added cabinet space and drawers for storage and organization. When choosing your double sink vanity, the basic decisions to be made include:
Type or style
Size - You don't want it to overpower the room
Does it compliment your bathroom décor?
Does it provide the storage you're looking for?
How much plumbing work will be required to install it?
At one time double sinks were considered a luxury item in more expensive homes. But with today's busy lifestyle, they have become a functional part of morning routines in less expensive homes as well.
Double Sink Furniture Vanities
Once you have a double sink installed in your bathroom, you'll wonder how you ever did without it. And today, furniture vanities provide choices in styles never before available. You'll find selections crafted from woods and veneers offering custom and one-of-a-kind looks for your bathroom.
Furniture vanities deliver functionality and style. Double sink furniture vanities add this same touch of elegance along with the convenience of a double sink. The following list provides a sample selection of furniture vanities with double sinks:
Lancaster Double Sink Vanity
This Lancaster double sink vanity comes in a medium brown complimented by a cream-colored marble top. The two sinks are a bisque porcelain featuring antique brass faucets. This one offers plenty of storage, with three drawers and two one-shelf cabinets at each end.
Potomac Double Sink Chest
Cole and Company's Potomac double sink chest has a rich, hand-distressed, black rub-through finish, providing old-style warmth and elegance with hand-painted gold detailing. The three drawers and four doors provides plenty of storage.
Stockton Double Bathroom Vanity
Global Treasures' Stockton double bathroom vanity offers carved decorative accents in a cherry cabinet complimented by a black and white marble top. The sinks are white porcelain.These few samples are just that--samples; a smattering of the host of furniture vanities offering unique looks for a double sink for bathrooms and your remodeling project.
Double Sink as an Upgrade
A double sink bathroom vanity offers space for two people to use the bathroom at the same time and is a great way to upgrade your master bath and add resale value to your home.
Not only does it allow couples to get ready without being rushed, it also provides more storage to help keep the bathroom uncluttered and organized. Home buyers find these features desirable when searching for their next home.
So whether you plan on remodeling the bath for your own use or because you plan to sell your home, adding a double sink to your bathroom is a worthwhile project.