Home Improvement Yard Lighting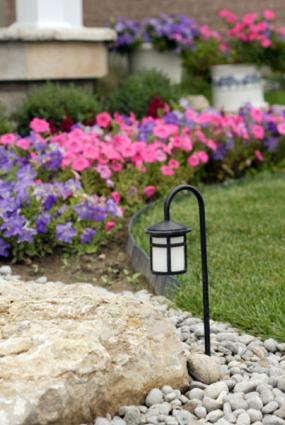 For all the work that can be done inside a home, choosing the right home improvement yard lighting is another important project.
Outdoor Lighting is Attractive
Landscaping your yard, be it a postage stamp or a few acres, is the frame around your home. More importantly, you don't have to be a master gardener to have attractive landscaping.
Planning with intent, just as you would when accentuating your home's interior, is the best strategy for outside design as well. Something as simple as a cluster of flowering perennials, decorative grasses swaying along a fence line, a rock garden encircling statuary or a bird bath, prized roses edging a patio, a shaded path leading to a reading nook, or a ring of fruit trees at the corner of the lot make as much of a statement as a formal English garden.
The steps you take with home improvement yard lighting create another level of scenery to your outdoor set.
Uplight plants or statuary for dramatic effect.
Cast a welcoming glow over a walkway.
Outline the curve of the landscape for definition and interest.
Create pockets of light around a deck or patio.
Downlight an attractive tree line.
Types of Home Improvement Yard Lighting
Architectural Grade
These are the most powerful lighting systems. Fixtures are manufactured with quality polymers and die-cast metal and cast the strongest light.
Best used for: Complex landscaping plans, highlighting front walkways and driveways, as well as security lighting.
Low-Voltage
This is most popular option for many residential areas. These systems come in a variety of styles.
Best used for: Most residential landscaping, including garden borders and special features, as well as decks and patios.
Solar
Solar lighting is a wonderful energy-efficient alternative for landscaping. Since it doesn't require wiring, it's very versatile. Look for a high number of LED units.
Best used for: Ambient lighting, although more solar lights with higher LED units brighten stairs and walkways, too.
Determine Your Needs
Assess your property in order to make the best decision.
Create a lighting plan by surveying the area and number of lights needed.
Draw a simple diagram of the area to keep track of measurements, spacing, and features.
Evaluate the external power source. The lighting transformer will need to be connected to it, and you don't want to overload it.
If your lighting system requires ground installation, call the local utility company for a free markup of the property to avoid buried cables or pipes.
More complex lighting systems may require an electrician and a concrete setting.
Talk to a lighting professional at a hardware store or home improvement center for more ideas and recommendations.
Picking the Right Unit
Before you start shopping, here are some tips for selecting the right product.
Most low-voltage kits are easy to install and don't require an electrician. The transformer with these kits will convert a standard current of 110 volts to 12 volts.
Buy a kit with a higher-capacity transformer to make adding additional fixtures easier.
A common kit has 100 feet of cable per transformer. Past 100 feet, the lights will dim without additional power.
Look for kits with standard bulbs to ensure simple replacement.
Review manufacturers' warranties carefully.
Make sure any outdoor lights are weather-resistant.
Your design will dictate mounting needs, but not all kits come with posts or poles, so factor that expense into your overall budget.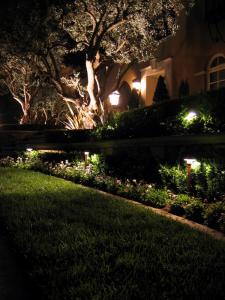 It may also be helpful to invest in a timer. These units are compatible with low-voltage kits and can be set to turn on at a particular time and day automatically, or you can use a light-sensor timer.
Installation
As you can see, many variables determine home improvement yard lighting requirements. Armed with what you know now, "This Old House" has an excellent tutorial on installation, as does Lowe's.
A Final Point
If you're planning to invest considerable time and money into your outdoor features, make an appointment with a local landscape architect. Most landscaping companies have professionals on staff who can evaluate your grounds and make planting and accent lighting recommendations. For the cost of the plan, usually between $50 and $150, you can continue yard lighting installation yourself, or ask the company to do it for you.