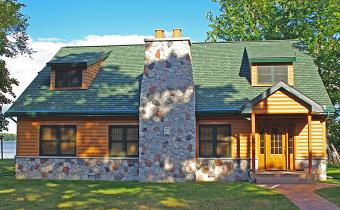 Log look vinyl siding offers a new way to achieve the rustic look of a log cabin without the maintenance. If you're building or remodeling a home in a wooded setting and want an authentic log appearance, consider vinyl siding and save on money and upkeep.
The Characteristics of Log Look Vinyl Siding
As a homeowner, you've probably heard about vinyl siding before. Vinyl siding has been used since the 1960's by builders, architects and homeowners alike for its ease of cleaning, low cost and durability. The product is made up of polyvinyl chloride, or PVC. This durable, flame retardant material can be shaped to form clapboard, shingles, scallops, and even the appearance of rustic, hewn logs.
Since the color goes straight through the material, it never fades or loses color making it perfect for areas of the country that get a lot of harsh weather. While some styles of log look vinyl siding can be painted, it is available in several realistic wood-toned colors, such as cedar or forest brown.
Since most log look siding is curved, to form the appearance of split wood logs, the hollow backs of these planks are typically filled with polystyrene insulation. This backing provides superior insulation for homes, helping to maintain heat in the winter.
Reasons to Choose Vinyl Siding Rather than Wood
If you own or are building a rustic home, then chances are you've already looked into natural log siding. While this natural material offers a high aesthetic degree, it also comes with a great deal of maintenance and cost.
Natural wood siding will need to be sealed, stained and protected from termites and other insects. You'll also need to undertake ongoing maintenance each spring after a long wet winter has soaked the wood, replacing rotting logs and re-sealing the others. Add these costs to the upfront cost of natural wood, and this may be enough to make even the most avid do-it-yourself homeowner pause.
Vinyl siding, on the other hand, offers several benefits over natural logs for homeowners hoping to make their rustic cabin home as low maintenance as it is peaceful.
Vinyl siding is low cost and can be installed easily.
There is no need to seal, stain or protect vinyl siding from insects.
Cleaning and caring for vinyl siding is easily done by anyone.
Vinyl is fire resistant; which can be a big plus for homes in wooded settings.
Vinyl is also extremely durable and will not be damaged after a storm or long, wet winter.
New vinyl siding offers better insulation, resulting in lower heating and cooling bills.
Purchasing Log Look Siding
Investing in your home is one of the smartest moves you can make as a homeowner. Choosing the right type of siding cannot only improve your home's curb appeal, but will dictate the look and style of the home for years to come.
While vinyl siding can be ordered and delivered to your home, it is probably wise to choose an installer you feel comfortable with first, then take a look at the types of vinyl siding your installer works with and recommends. This way, you know that the siding you've chosen will be installed properly and that it is likely to be backed up with full warranties. Check with lumber yards and builders in your area to find the right installer to work with you.
When choosing to install vinyl siding, rather than wood, take some time to consider a few of the options available and know that the choice you are making is one that you feel comfortable with. It's always a smart move to ask the manufacturer and installer several questions before purchasing, to make sure you don't end up with more, or less, than you bargained for.
How long will it take to side or re-side the home?
What are the options for finishing the ends or corners of the home? Is a natural wood log end appearance available or will vertical siding be installed on the corners?
Can the vinyl be painted?
Does this siding have an insulation backing?
Enjoy the Look of Your Home
Choosing log look vinyl siding for your rustic style home not only ensures that your home will look beautiful, and stay warm this winter, but that it will continue to look great for years to come. Install vinyl, rather than wood and enjoy a maintenance free home exterior for the life of your house.