Outdoor Fireplace Design
Outdoor fireplaces create ambiance and provide a gathering space for friends and family. They allow you to use your deck or patio year-round rather than just during warmer weather.
This rustic fireplace compliments the wooden construction of the deck. With more ivy, the pergola will provide a shady respite during the summer, and its design helps to anchor the placement of the fireplace.
Build Your Own Outdoor Fireplace
Stone and rounded bricks are combined for a funky effect in this do-it-yourself outdoor fireplace. The sides provide extra seating to take advantage of the warmth of the fire, however, this fireplace isn't well integrated into the patio design. Planters could help, as well as more seating to create a conversation area.
A Modern Interpretation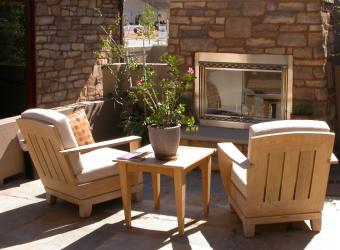 Stainless steel trim makes this outdoor fireplace look clean and modern. The smooth stone hearth mimics the patio paving material and compliments the rustic rock walls. Light furniture with neutral cushions are a nod to the minimalist fireplace design.
Chef's Paradise
This fireplace is part of an outdoor kitchen. Ample counter space as well as storage for extra wood and other supplies is thoughtfully integrated into the design.
Swimming, Fireside
What could be more relaxing than swimming in your heated pool to a soft, orange glow? Add an outdoor fireplace along your pool patio with seating so you can warm up by the fire after swimming laps.
Camp Out in Your Backyard
A rustic firepit is slightly more civilized than a campfire. Cook dinner or roast marshmallows while gathered around the fire...in your backyard. This pit is sunken and lined with brick to prevent flames from spreading.
Spanish Style Fireplace
Textured stucco makes for an elegant, Spanish-inspired outdoor fireplace design. The chimney and hearth are painted a terracotta shade to make them stand out from the soft peach wall. An arched opening adds elegance, enhanced by graceful wrought iron furniture.
A Traditional Outdoor Fireplace
This angular stucco and brick fireplace has a classic shape. The special brick pattern and iron sculpture create a focal point during warm months when the fireplace is not in use.
Now that you've been inspired by outdoor fireplace designs, imagine what it would be like to have a fireplace
in the bedroom
, too!