Bathtub Focal Point
Updating a bathroom is a great way to add value to your home while creating a restful, peaceful escape from daily life, and fortunately there are many bathtub replacement ideas that can spark inspiration for an entire bathroom renovation. Creating a more spa-like experience in your bathroom will add luxury to your living space, making bathroom remodeling a project you can love. If you plan on making the bathtub the focal point of the room, consider centering it in the open space so it is more visible and accessible, and design the new bathroom around it.
Bathroom Lighting
Harsh overhead lights can make even the newest, best bathtub look out of place. Consider underlit cabinets or shelves for a more subtle, muted option. Sconces and candles are also good choices, and candles can add more of a spa feel to the room.
Separate Tub and Shower
When replacing the bathtub, consider creating a separate tub and shower area for more luxurious space. Glass doors and connecting arches keep either space from feeling too claustrophobic and can add lovely architectural details to the room.
Vintage Claw Tub
A modern trend in bathtub replacement ideas is to go retro with a freestanding vintage claw foot tub. The smooth curves of these tubs are relaxing, and adding details such as a concealing screen, draperies, and dark wood cabinets to the room will enhance the classic design.
Jacuzzi Tub
Whirlpool and Jacuzzi tubs are the perfect option when replacing an older, smaller bathtub. Whirlpool tubs come in a variety of depths, shapes, and sizes, so be sure to choose one that fits your bathroom space appropriately.
Simple Style
If you can't replace a basic bathtub with a more elaborate model, you can still dress it up with more ornate curtains instead of a cheap plastic shower curtain. Curved shower rods, tile borders, and shower shelves are other ways to renovate a simple tub with ease.
Everlasting Pool
If you'd rather swim than soak, consider replacing your bathtub with an indoor everlasting swimming pool that features a continuous current for swimming in a small space.
Bathroom Entertainment
After you have remodeled your bathroom to a luxurious retreat, you will want to be spending more time enjoying your new bathtub. Consider adding a television to the bathroom on a pivoting mount so it can be watched while you soak.
Refreshing Colors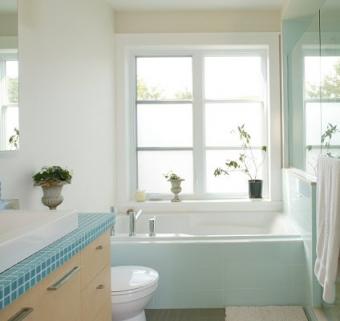 Bathrooms don't need to be white, and when you replace your bathtub consider updating the color scheme as well. Pale blue and aqua tones are popular, or you can be bold with brighter shades or patterns.
Windows Work Wonders
Natural light makes a bathroom more of a relaxing retreat than a functional room. Adding windows around the bathtub will instantly refresh the area, but be sure to include draperies, blinds, or shades to ensure privacy.
New Bathtub Fixtures
If you can't replace the entire bathtub, consider updating the tub fixtures for a new look without an entire remodel. Smooth curves mimic the look of waves and water for a relaxing but modern style.
No Bathtub Needed
Some people prefer long, hot showers rather than soaking in a bathtub, and if you can't find any bathtub replacement ideas that work for you, consider skipping the tub altogether in favor of a luxuriously oversized shower. Multiple shower heads, steam settings, and inset benches will make the shower just as luxurious as any bathtub.
Recycle Your Tub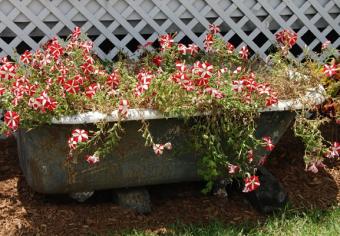 After you have replaced your old bathtub and created a new, relaxing sanctuary, recycle your old tub! Creative options include planters, unique toy chests, and an addition to a child's playhouse.


For more bathroom renovation ideas, check out: