Kitchen Lighting
There are three types of lighting to consider in the kitchen:
Task lighting
Accent lighting
Ambient lighting
Use one, two or a combination of all three in a variety of different styles to get the lighting you need in your kitchen.
Under Cabinet
Under cabinet lights are a type of task lighting. They help illuminate the area right on the counter, and are so unobtrusive they don't compete for attention in the kitchen design.
Track Lights
Track lights are a way to add a combination of ambient and task lighting in one space. Aim the lights exactly where you need them, or scatter them around the room for bright illumination.
Recessed Lighting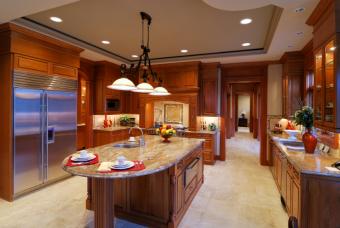 Recessed lights are mounted flush with the ceiling for gentle ambient lighting that doesn't compete for attention in the kitchen design.
This room uses recessed lighting on the inner and outer edges of the tray ceiling for extra light.
Modern Recessed Lights
If you want ambient light that also adds something to the overall kitchen design, consider recessed light panels.
These larger lights add a distinct, modern touch to the rest of the kitchen.
Spot Lighting
If you have the type of ceiling that can't use recessed lighting, consider spot lighting instead.
Spot lights can be aimed to become an accent light by shining them against a picture. They can also become task lighting or function as general ambient lighting.
Pendants
Pendant lights can be hung anywhere in the kitchen. They add decorative task lighting to areas such as islands, peninsulas and tables.
Art Glass Lights
Art glass pendant lights use decorative colors, shapes and sizes to help complement the rest of the kitchen design.
These red art glass lights help pick up the colors in the kitchen backsplash.
Crystal Lights
This decorative crystal waterfall is a way to add some gentle task lighting above a table or kitchen island while also adding a focal point to the kitchen design.
Because a light like this does not have much wattage, be sure to combine it with plenty of nearby ambient lighting to make up the difference.
Sconces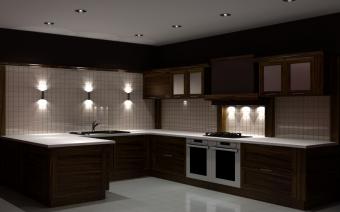 Sconces are a fun way to add some accent lighting to the edges of your room.
Sconces can be modern, like these, or they can be more traditional in design. Use them to break up a long wall, or to highlight doorways.
Updated Chandelier
If you want functional light above your kitchen table, consider an updated version of the classic chandelier. This multi-bulb light fixture adds plenty of light without a lot of competing design decisions to the space.
For more ideas on how to decorate your kitchen, check out this slideshow of kitchen granite countertops.