Used Vintage Bathroom Fixtures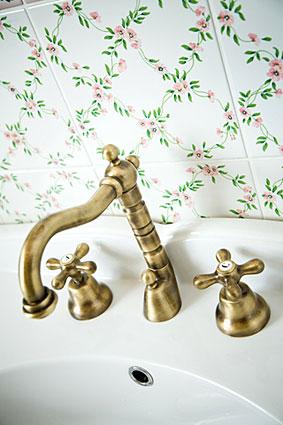 Used vintage bathroom fixtures will complete any style of vintage bathroom design flawlessly.
Finding Pre-Owned Vintage Bathroom Fixtures
The best way to find vintage bathroom fixtures is to visit your local salvage yard. If your town does not have a salvage yard, take a trip to a larger city nearby. There are a few other options to help you on your quest to find the perfect vintage bathroom fixtures.
eBay - The quintessential online marketplace for buyers and sellers alike. Find all types of used vintage bathroom fixtures from faucets to sinks, at relatively low prices. Be careful when bidding on large objects such as vintage pedestal sinks. The prices on these items may be buyer friendly, but the shipping costs can kill your budget. If you can't seem to find what you need the first time you visit, be sure to check back often, because new items are added every day.
Seattle Building Salvage - This salvage company is completely online. Find vintage claw-foot bathtubs with original hardware, pedestal sinks from the 1920s or even antique stained glass windows, which are a beautiful way to ensure privacy in your bathroom. Seattle Building and Salvage also offers restoration services on its vintage products, such as porcelain tub refinishing.
Thrift stores - All towns big and small have at least one thrift store. Rummage through the shelves to find your perfect vintage bathroom accessories.
Garage sales - People sell everything at garage sales. Choose a Saturday and make your way around to the bigger garage sales in town.
Flea markets - Flea markets have vendor booths of all types and you can be sure to find the best price on your vintage bathroom fixtures by bargaining with the booth owners.
Newspaper advertisements - Check the "For Sale" section of the classified ads in your local newspaper. You may be surprised at what you find.
Restoring Used Bathroom Fixtures
When you purchase vintage bathroom fixtures and accessories made of metals like cast iron, all they generally need is a stiff cleaning and polishing before they are ready to be fitted into your modern bathroom plumbing. Other items may not be in the best of shape and need to be refinished or refurbished to bring them back to life.
Resurfacing porcelain tubs and sinks - There are two options for resurfacing tubs and sinks. You can either do it yourself or hire a resurfacing professional.
If you do it yourself - You will need to purchase a resurfacing kit. These kits can be found at your local home improvement store or online for around $100. Keep a few important key factors in mind when you decide to do this job yourself.
Find the highest-quality resurfacing kit. This isn't a place to skimp. Ask questions at your home improvement store and read product reviews.
Take your time. This is essential for producing smooth surfaces and professional results.
Resurfacing materials are flammable and toxic. Invest in a heavy-duty respirator mask, keep the room well ventilated and keep all children and pets away during the resurfacing process.
If you decide to hire a professional contractor - This is more expensive than doing it yourself, but it is less expensive than having to replace your tub or sink because you didn't resurface them properly. Get at least three estimates to find the best price.
You may want to consider a [[Bathroom Tub Liners|new tub liner] if the vintage bath tub you have purchased has a lot of nicks and pit marks.
Painted fixtures - Any vintage bathroom fixture you buy that is painted, like medicine cabinets and vanities, will more than likely contain lead paint. Lead paint is toxic and must be removed in the proper manner. Do not sand, scrape or use a heat gun when removing lead paint. The dust particles created are toxic. Use Smart Strip by Peel Away for a safe and eco-friendly way to remove lead paint. Don't forget to properly dispose of your clothes, drop cloths and all other porous materials when you are finished.
Have a Plumber Install Your Vintage Fixtures
Keep in mind that bathrooms are one of the most heavily used rooms in a house when choosing vintage bathroom fixtures. You probably want to steer clear of delicate fixtures that won't stand up to the daily abuse. Hire a plumber to fit your faucet fixtures. Vintage bathroom faucet fixtures won't fit like modern faucets. It is best to leave this job to a professional so you won't run into any problems down the road with your bathroom plumbing.