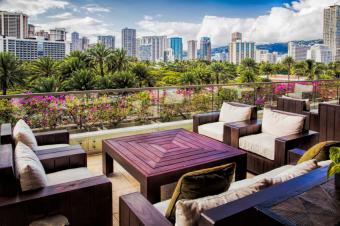 Rooftop living is the pinnacle of urban life - there is fresh air, incredible views and the outdoor living space that is so valuable in places where real estate is at a premium. If your roof is built to support it, it's hard to imagine any reason to not design and build your own rooftop oasis.
Design Elements
There are a few essentials to any rooftop deck design and a nearly infinite number of possibilities, if your budget permits.
Essentials
Railings - Safety is first when thinking about a rooftop deck; a 3-foot tall barrier is required at a minimum on all sides of the deck.
Lighting - Rooftop decks are ideal for stargazing in the pitch black of night, but adequate lighting is needed to make them functional for other nighttime uses; it is also a safety consideration, especially for stairs leading to the deck.
Wind Protection - Critical to be able to enjoy the space on windy days, wind protection can be integrated with the railing on the windward sides of the deck.
Sun Protection - Rooftops are major heat sinks; plan for some type of canopy or overhead shade structure to be able to enjoy the space on hot summer days.
Furniture - You will need a place to sit; this can be as simple as bringing up a folding chair or can be designed as part of the space, much like the interior design of your living room.
Optional
Plants - The sky is the limit for rooftop container gardens; use vines over a pergola for shade, dense shrubbery for wind protection, potted herbs for a rooftop kitchen - or even grow a strip of turf as a putting green.
Kitchen Gear - Just like a backyard patio, a rooftop deck is a great place for a cook-out; include a picnic table at the very least, and consider a barbecue grill, mini-fridge, countertop and cupboards.
Water Features - In the simplest form, a small plug-in fountain can help drown out the noise of the city; at the other end of the spectrum, you might consider a rooftop pool (though this luxury is only realistic is you house is engineered to support it).
Fire pit - Caution is advised in bringing fire to your rooftop (it needs to be designed and built by a competent professional), but a source of warmth makes the space usable for several months each year and adds tons of ambiance; propane-powered patio heaters are another option to take off the chill, however.
Design Styles
Stylistic approaches to design should be taken as a starting point, not an attitude that controls the outcome. Your personal sense of taste and integrating with the surroundings will ultimately dictate design decisions, but considering different styles helps to get the creative juices flowing.
Modern
Clean lines, spaciousness and minimal embellishments are the keys to the modernist aesthetic. Here are some design ideas to consider:
Smooth polished concrete flooring dyed in a cool color tone
Metal railings with a clear glass wall to preserve the view and provide wind protection
Glazed ceramic planters with specimen grasses or other architectural plants to create a tidy and refined plantscape
Metal light fixtures near the floor for subdued nighttime atmosphere
An infinity pool
Traditional
Try on these design ideas for a rooftop deck with a traditional look - perfect for a rural cottage, seaside retreat or any home built in a traditional American style.
Painted wood deck and railing
An ordinary picnic table with benches for dining and 'Adirondack' chairs for relaxing
Canvas awnings and umbrellas for shade, especially with a striped pattern
Wind chimes, bird feeders, a weather vane, a weather station (thermometer and barometer) or other such accessories
Barbecue grill
Mediterranean
Rooftop terraces are commonly incorporated in Mediterranean villas, where they are used for leisurely meals and sunbathing.
Stucco finish for walls/windbreaks
'Mexican' tile flooring
Terra cotta planters with aromatic herbs and traditional Mediterranean species, such as a grapevine, lemon bush or fig tree
A stone fireplace or grill
A multi-tiered fountain
Roof Structure and Layout
Generally speaking, there are two main roof types - flat roofs and pitched roofs. Rooftops are also a home to various utilitarian structures, such as chimneys, sewage ventilation pipes, attic ventilation features and A/C units, which you will have to work around in designing a layout.
Flat Roofs
If you have a flat roof, you are in luck, as it can serve as the surface for a deck. In this case, the existing shape of the roof will determine the layout. Not that you have to convert the entire roof surface to usable outdoor space; you should choose the area with the best view, of course, while also considering things like wind direction and if there is a large overhanging tree that can be utilized for shade.
Pitched Roofs
A pitched roof will require a flat deck area to be built with wood, similar to building a deck on the side of a house. These tend to be narrow, so as not to have the deck hanging out over the edge of the roof, but they can be built as long as the roof to provide the desired square footage. A door can be incorporated somewhere in the roof line to provide access.
Rooftop Paradise
The first step to creating your rooftop paradise is to check with an engineer about how much weight your roof can support and/or the feasibility of reinforcing it to make the project possible. It's definitely the type of home improvement that will require a permit and the services of a licensed and insured contractor, but it's always best to develop your own design ideas in as much detail as possible before hiring a professional.