Available in many configurations for both interior and exterior applications, glass wall systems are an excellent way to expand your view, give any room a sense of spaciousness, provide natural light to your living spaces, or add an eye-catching feature wall to your home. High-tech models offer options such as automatic tinting, push-button privacy, and solar power generation.
Moving Glass Walls
Indoor/outdoor living is popular these days and there are wall options that can transform an outdoor space into part of your living area. Combining garden, patio, pool, and other outside areas with indoor living spaces using moving glass wall arrangements could be a great idea. Moving glass walls allow natural light to enter and give views of the outside world.
Moveable glass walls can also be a functional interior wall option used to isolate an area, such as an office, from the rest of the house.
Styles of moving walls include:
Bi-folds where doors fold open in pairs
Stacking doors that slide to one side and stack together
Pocket doors that disappear into a wall cavity
Moving wall systems are complicated and installation should be left to professionals to ensure proper operation and a strong structure.
Shopping Suggestions
When looking for a moving glass wall, keep your needs and existing wall structures in mind.
Remote control operation is possible with a system such as Sky-Frame Drive. The doors are electrically operated, either manually or automatically, with the drive mechanism hidden in the ceiling. On their website, you can find a distributor near you for pricing.
Milgard moving glass wall systems are available in bifold, stacking, and pocket designs. Made of aluminum or aluminum-clad wood, they come in several colors and designs. You can contact a representative for a consultation and pricing.
NanaWall shares a video of their movable wall systems in action, including folding, sliding, and frameless systems. Purchase locations are available on their website, and you can contact them for pricing.
Exterior Fixed Glass Walls
Fixed glass can be used in many variations for use in exterior walls. A wall can be configured using a series of framed windows, or in a frameless design where several glass panels are bonded together using a silicone seal.
Installation should be performed by pros, especially where structural renovations such as existing wall removal come into play.
Consider frameless systems at wall corners and glass roof-to-wall intersections to minimize view obstructions.
You can even have operational windows within your glass wall system if you like.
Systems to Purchase
Models for hurricane-prone areas, designed to withstand 200 mph winds, are available through Western Window Systems. You can contact them through their website for pricing.
Solar Innovations offers folding glass walls, slide and stack glass walls, and clear glass walls. Some products can also be used as interior walls, so be sure to specify their purpose when speaking with a representative or your contractor. This can affect how the walls are made as well as their price. Quote forms are available on their website.
Interior Partition Walls
Glass partition walls can be a practical addition to your home. They can be installed in fixed or movable configurations and can dampen sound, allow natural light and views from exterior glass walls into any room, and make the room appear bigger. They can be covered temporarily with blinds or curtains for privacy.
A couple ideas for where to place them include:
Installed in a second-floor room or hallway, they can add a sense of spaciousness when overlooking the main floor and views of outdoor areas.
Bathrooms appear larger when glass walls are used to construct walk-in shower areas.
Once again, proper installation by a pro will ensure the structure of your home is not compromised, especially if an existing wall is removed.
Walls to Buy
Cubicles.com offers a wide variety of partition walls including wall panels, room dividers, and glass wall systems. Their website lists prices for each type to give you an idea of costs. Prices are listed per lineal foot and range from $240 to over $2,000.
Hufcor sells two different acoustic walls, a frameless option, and a timber-framed option. You can get a quote online or visit a representative nearby.
High-Tech Glass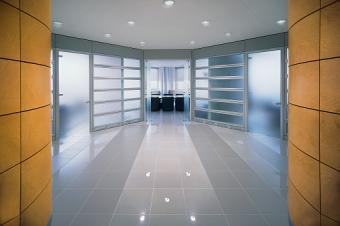 For all of you futuristic-minded folks, advances in technology have resulted in the production of smart glass walls, automatic glass tinting, and walls capable of generating electricity. These wall systems require electrical connections and are complicated to install. Professional installation is required.
Options to Consider
Options will vary based on the tech you want when purchasing.
Photovoltaic (PV) glass produces electricity while allowing natural light to pass through. Ertex solar manufactures and sells semi-transparent and transparent versions of PV glass products, including laminated PV safety glass. Visit their website for detailed information and contact information for pricing.
Smart glass, available from Vario, frosts glass with the push of a button to give you privacy when needed. You can control it manually or have automatic settings take over. More information and pricing quotes are available through their website.
SageGlass offers another version of smart glass with variable tinting glass controlled automatically, manually, or with an app from your phone. Their website has lots more info, a video, and you can contact them for pricing.
Glass Blocks
Maintain privacy while adding extra natural light in your bathroom, bedroom, or office space by using glass blocks to create a wall. A glass block wall also can add a decorative touch to your garden, deck, and patio area. Colors of glass block walls will vary, as well designs, so look for ones that suit your style.
Glass blocks allow light to pass through while maintaining the privacy of a traditional wall. They can also be used to create stunning exterior walls, some using interior backlighting for dramatic nighttime effects.
Simple arrangements can be easy to install for the DIYer. However, you should have basic construction skills and knowledge of structural components, especially if removing existing walls. Make sure the blocks you select are appropriate for this application, too. It might be best to leave structural glass block walls to the professionals.
Shopping Option
Seves Glassblock offers a wide variety of designs, colors, and technology. Installation guides and ideas for using glass blocks in your home can be found on their website. You can contact them for pricing.
Decorative Glass Walls
Consider making or commissioning an artist for a one-of-a-kind wall designed from bottles or colored glass. Walls made from new or antique stained glass can be a spectacular addition to your home.
The possibilities are endless and are limited only by your imagination.
You can create interior and exterior walls by recycling almost any kind of glass bottle. As with any construction technique, it is important to do it correctly for lasting results and to ensure you end up with a solidly built wall. Unless you're familiar with wall installation, it's best to leave it to a professional.
When constructing a wall of glass, ensure you use safety glass and pay close attention to structural details.
Patterned and colored glass are available in many designs to enhance your living space. Livinglass offers a wide selection of decorative glass, including illuminated panels for visual effect. You can contact them through their website for pricing.
Glass Wall Considerations
As with any construction technique, glass walls have their benefits and drawbacks.
Benefits
The advantages to adding a glass wall are numerous.
Exposure to natural light provides health benefits such as boosting your energy levels, improving your mood, and helping you get a good night's sleep.
Glass walls require relatively low maintenance with no painting necessary, just an occasional cleaning.
Painted aluminum or stained wood frames can match your home's style and décor.
Automatic or manual tinting and frosting, along with shades, blinds, or curtains supply privacy when needed.
Curved, flat, or rectangular sections of walls are possible with all the options listed above.
They can be full height for living rooms or partial walls for use in places such as above kitchen counters.
Passive solar heat gain from glass walls can be helpful in sunny winter locations.
Drawbacks
While you may admire glass walls, there are some drawbacks you should consider before making the decision.
DIYers beware! You cannot simply remove a large wall in your house and install big sheets of glass or a bunch of doors. Structural issues must be dealt with carefully to prevent the possible collapse of the roof and/or the second story or your house. Speak with a professional first.
Glass walls are not as energy efficient as wood-framed, well-insulated walls.
A south-facing glass wall will allow heat from the sun to enter the room in summer. This could result in higher air conditioning costs.
Do you live in an earthquake zone? Large expanses of glass may not be a great idea.
You will not have electrical outlets in glass walls.
Large sections of windows and doors, especially with triple-glazing for energy conservation, are expensive.
Birds have a tendency to fly into exterior glass walls.
Make the Most of Your Living Spaces
From simple DIY glass bottle and glass block walls to high-tech photovoltaic and self-tinting windows, glass walls are a popular choice for renovations and new construction. Transparent walls can expand your living space, increase your views of the outside world, and allow you to enjoy more year-round natural light.