Finished Attics
Finishing your attic is a great way to expand your living space without actually adding on to your home. Attics can be used for a variety of different activities and spaces, from family rooms to children's play areas.
This finished attic combines storage with seating for an extra family room or a hangout for teenagers. The exposed beams leave the space informal, without lowering the ceiling too much. New flooring is the biggest expense in this attic remodel; the rest of the space could be finished by a savvy homeowner for not too much money.
Attic Home Office
If you work from home and need a place to entertain clients, consider finishing your attic to create an office and mezzanine. This open floor plan allows space for a guest to sit and relax while they wait for you. It's also open to the rest of the house which helps let in light and keeps it from feeling like an attic.
A transformation like this is a serious renovation. The skylights above the waiting area, wood floor and finished ceiling are professionally done. Expect a renovation like this to cost upwards of $40,000.
Attic Master Bedroom
Provided you can get enough light in there, attics make an ideal master bedroom. This bedroom features tilt-in skylights that let both light and air into what are typically dark, hot places. The blond wood floors and closets keep the room light in tone and help make up for the lowered ceilings.
While most skylights can be installed by homeowners, skylights like these that take up much of the ceiling in the room require professional installation, as do the custom closets that match the floors.
Attic Bathroom
No matter how much or how little space you have in your attic, a bathroom is almost always a sure fit. Bathrooms don't require as much space as family rooms or bedrooms, so if you need an extra water closet in your home, the attic is a great place to consider one.
Remember that your attic bathroom will be subject to the same building and plumbing codes as other rooms, particularly if you need to run the plumbing up there. This may mean your plumber will need to access areas below the attic to help run the necessary pipes.
Attic Living Room
If you're looking for a quiet place to sit and read, an attic living room is a great choice. This attic living room brings in light through carefully placed skylights right where people will want to sit and read.
The wood wall paneling is a fairly cheap and easy solution to finishing the attic walls - ideal for a DIY homeowner that wants to finish some of the space for cheap.
Kid's Bedroom
Attics are also ideal spaces for children's bedrooms because their sloping walls don't interfere as much with standing, walking and playing. This attic maximizes space and resources by painting the walls and ceiling a bright white instead of finishing them.
The white keeps the area bright and gives it a finished appearance, without the need for a dropped ceiling that will further lower its height.
Small Bedroom
If you need the space for a guest room or other small bedroom, the attic is a great area to add one. This attic bedroom includes storage in a crawl space that runs behind the bed, so there is plenty of places to keep things that are out of the way. Skylights cut into the ceiling provide light, while the bed is pushed against the short wall where people are unlikely to stand.
This is one of the least invasive types of renovation; once the walls, ceiling and floors are finished not much is needed architecturally.
Master Bedroom Suite
If you have enough attic space, consider putting in a master bedroom with an adjacent master bath. While attic bedroom renovations are costly - about $48,000 nationally - those with bathrooms attached are likely to get the most return at resale. This kind of renovation is one of the most invasive, as it means not only finishing the room and adding an entry, it also means running the pipes up for the plumbing.
Attic Family Room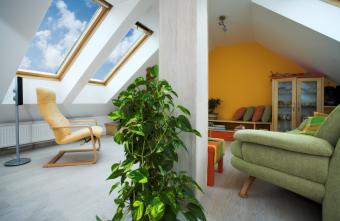 If your home has a formal living room, but no place for more laid back living, consider adding an attic family room. This very simple space uses the attic's columns and naturally contours to put in a family-friendly room with lots of light. The biggest expenses in this room come from the flooring and the skylights; few architectural changes went into the design.
Attic Apartment
While not every home has enough space or attic ceiling height to accommodate one, those that do can make great use of an attic apartment. This space puts the living area on the sloped side of the ceiling, and uses the height of the A-framed house to place a small loft bedroom up above the kitchen area. The open floor plan helps make the area feel larger, while making great use of the space.
This is one of the most extensive types of attic renovation, but if you are able to extend an outdoor staircase and separate entrance it could become a source of revenue that eventually pays for itself.
Media Room
If you have a gambrel style house, you have additional options for how you can finish the attic because the roof lines offer you additional space. This media room includes skylights on each slope of the roof for extra light. Mounting the viewing screen on the chimney makes great use of space, as does tucking the desk into one smaller area of the space.
Attics with ceilings like this may already be partially finished; the expenses come from updating the flooring and adding the skylights.
Attic Built-Ins
No matter what type of room you use your finished attic as, consider making use of the space by building into the short walls. This playful attic bedroom includes a bump-in that holds a bench for storage, as well as a carefully hidden storage area behind the colorful panels. Skylights bring in light, while the floor is laid in short boards to reduce the cost of the renovation.
Whether your attic is newly installed above the garage, or has been part of your home since it was built, consider finishing it to make this space an integral part of your life.