Tiny Homes Sweep the Nation
As people's minds have expanded upon the dawn of the 21st century, many have found living smaller is better. Some people recycle building materials, while others build new, but no matter how you build it - the tiny home movement has swept the nation in a not-so-big way. Click on "More Details" to learn about various manufacturers.
Modular Housing Saves Money
More Details"
The Tiny House Company out of Australia has some great new innovations with small expandable modular housing, and building modular could save money when starting your own tiny home. Small additions when you need them will help disperse the cost of your overall build as you expand on your original design, but make sure you leave simple connections for water and power to make that next step a bit easier to manage.
Motorized Functions
More Details"
This Aussie-built bed moves on electric motors to provide a relaxing space during the day without giving up the desire for a spacious bed at night. Using cables set into the wall, one small electric motor could provide the smooth, quiet motion to raise the bed using very little energy, and adding a large drop-down monitor into the bottom could easily turn this handy space-maker into a nice entertainment area as well.
Ways to Reduce Clutter
More Details"
Extending the kitchen counter space across the entire length of the home provides ample room for food preparation and adds helpful space for entertaining or crafts. In fact, there is even a counter on top of the washing machine that matches the rest of the kitchen counter on that side, providing continuity to the space.
Open shelving is fine for some items but storage under the counter reduces clutter and leaves a clean presentation when guests come calling.
Energy Efficient and Economical
Passive architecture uses tight fitting windows, doors and insulation in conjunction with minimal space conditioning to create an energy efficient haven in larger architecture. Taking a tiny home off grid tightens energy usage by depending on solar, wind and water energy collection so spending a little more for triple paned windows, spray foam insulation, and tight fitting doors will allow for more modern conveniences like television and internet.
Natural Lighting Ideas
More Details"
The Cypress house plan from Tumbleweed houses pulls the door in from the front to add more window space as well as provide a covered entry when coming in from the rain. The loss of the floor space is still available in the loft area above so you don't lose valuable storage in this quaint compact design, but you do gain natural light.
Staircase Storage Maximizes Space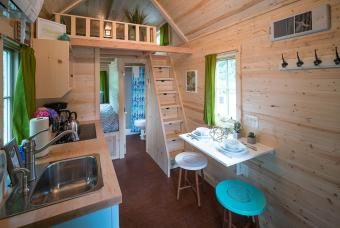 More Details"
The steep stairs can be accessed by dropping the table and there is plenty of drawer storage in between those small steps. When designing your loft access take into consideration the staircase. Steeply inclining steps increases the total floor space below while deepening the drawers in between each step maximizes storage space for larger items.
Keep Dual Purpose Design in Mind
When designing your living areas, try to think of ways to temporarily re-purpose those spaces. Dual design for a loft would be ungainly since climbing is more of a nuisance but a lower level sleeping and entertaining area, as shown in this Traveler design, would be perfect for company staying the night. Futon style furniture, as apposed to a daybed, would accompany more guests during the day because of the added floor space but the addition of throw pillows is a nice touch.
Imaginative Salvage Material Use
Pure Salvage Living out of Texas uses 99% of salvaged materials to build their tiny houses literally "building the future from the past." Salvaging materials is an environmentally friendly way to reduce landfill waste while putting a roof over your head. It's environmentally friendly, and often budget friendly, as well as unique.
There are many architectural salvage companies across the U.S. For example, the Habitat for Humanity Restore is a great place to find new and used building materials while helping others, and they are always looking for volunteers.
Pallets Create a Unique Exterior
More Details"
Using pallet slats to cover the outside of the house is one way the MiniMotives crew began their journey. Damaged pallets are unsafe for shipping so re-purposing them is a great way to reduce waste in landfills. Pallets are usually coated with chemicals to prevent bacteria, bugs, and mold so always use them outside and seal them with a paint or stain after assembly. Most home improvement warehouses have old pallets they need to dispose of so getting them free is usually an easy venture.
Appliance Placement Counts
More Details"
Placement of common household appliances in your tiny home design can be problematic since they are not normal sized and there aren't templates readily available. Here, the tight fit of the stove, sink, and washer makes every foot of counter space count while allowing a large window plenty of space along the same wall.
Create Elevated Spaces
More Details"
Any elevated space creates plenty of room for storage. The raised bed creates headroom while maintaining cabinet areas tall enough to hang clothes. The wrinkle-free lifestyle can still be found in a tiny home.
Two sets of shelves, rather than one, above the kitchen area also adds more storage and decorative space without losing precious footage on the floor.
Kitchen Below Stairs
Tiny House Chattanooga designed a kitchen area that fits nicely under the stairs. This handy idea features a window that not only brings light into a space that would usually be shadowed but also allows ventilation while cooking. The elevated stairs make easy to reach drawer spaces to store all your kitchen and home items.
Keepin' it Simple
Ladders are simple to build and easier to maintain than stairs and the extra floor space will be worth the extra time spent moving the ladder when needed.
Shrinking your home's footprint promotes an outdoor lifestyle and utilizes less energy, but going tiny takes some getting used to. Many Americans are already finding that the monetary and health benefits of the tiny lifestyle are definitely worth the change. Once you have the design you desire, decorate your tiny house to fit your lifestyle!