Best Kitchen Countertop Materials Compared
The best countertop materials for your kitchen may be the least expensive. However, you may decide a more high-end look is what your kitchen needs to make it truly spectacular.
Quartz Countertops
Quartz is growing in popularity as a countertop material choice. You can choose from quartz and engineered quartz stone.
Engineered Quartz
Engineered quartz is prominently quartz combined with other minerals to create slabs that are held together by resin. This countertop material is superior in performance to both marble and granite. You can't scratch it and it's resistant to stains.
Pros and Cons
This countertop can mimic marble with the right coloring technique. It's considered a cutting-edge technology for countertop kitchen design. Heat and stain resistant, this countertop is expensive and heavy.
Wood Countertops
Wood countertops can add an ambiance of warmth to your kitchen design. You have the option of using sustainable woods or exotic wood species.
Pros and Cons
You can have unique wood grains and colorations to make a truly one-of-a-kind kitchen design. Wood takes stains and paints easily making it very versatile for a countertop. You can change the look by sanding, re-staining or repainting and resealing. Most woods are hard, durable and can be sealed to be stain resistant. This material is a great look for country, farmhouse, urban chic, and modern kitchen designs. It can be an expensive countertop choice.
Recycled Glass Countertops
An ecological favorite is recycled glass countertops. Made from various recyclable glass, these countertops are easily molded into countertop slabs with a variety of colors and designs.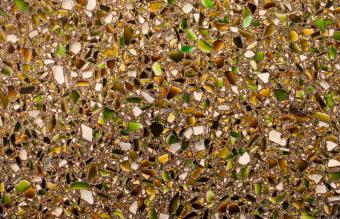 Pros and Cons
These are easy to install with uniform shapes and sizes. They are also maintenance free. Neither heat nor abrasive cleaners can damage this material. This countertop is expensive, and the construction of the glass makes it heavy.
Marble
Marble countertops are the epitome of an elegant expensive kitchen design. As with other stones, each slab is unique. Depending on your budget, you may decide to highlight the kitchen island with a marble countertop while covering the remaining countertops with a contrasting darker stone.
Pros and Cons
Marble is a high-end countertop treatment that increases the value of your home. It is impervious to water and heat, making it an ideal stone choice for kitchen work. However, it is a very expensive countertop stone. You must be careful with abrasive objects since it will scratch. Marble a with other stones is porous and must be sealed to prevent staining. It's an expensive choice and is heavy.
Granite
Granite remains a popular countertop choice. This elegant look can instantly transform a mundane kitchen. The cost for this material has decreased over the years due to more available granite.
Pros and Cons
Granit is a strong and durable material that is resistant to heat, allow hot dishes to be placed on it without damaging the countertop. An almost endless color choice with no two pieces of granite being the same gives this material a one-of-a-kind status. When treated with an appropriate sealer, this stone becomes maintenance free. The cost factor can mark this an expensive countertop choice, but it add excellent resale value to your home. You'll need a professional to install this countertop. It is a heavy countertop. The stone can crack is improperly installed.
Soapstone Countertops
A natural stone countertop material, soapstone has an almost silky-smooth feel. If you're looking for a substitute for a granite countertop, you may find soapstone a pleasant change with its light to dark gray coloring.
Pros and cons
With use, this countertop will develop an antiqued patina look. If you have a farmhouse design or are renovating a period-style home, this may be a sophisticated and stunning look for your redesign kitchen. Soapstone is stain-resistant but can be scratched if you aren't careful. If your countertop is damage, an expert crafter can sand it out and refinish to look like new. To maintain the color, treat soapstone with mineral oil once a month for a darker finish, less for a lighter gray.
Stainless Steel
A stainless steel countertop gives your kitchen a utilitarian and commercial kitchen appeal. You can choose to cover all the countertops or use for a food preparation kitchen station.
Pros and Cons
This material is heat resistant, long-lasting and is a high-end choice. Easy to clean, it has highly sanitary properties for food preparation. You can use this for an industrial, modern or contemporary kitchen design. It is an expensive choice but will last beyond your lifetime.
Ceramic Tile
Ceramic tiles come is all shapes, color and styles and costs less than more expensive granite, soapstone, marble and other stone countertops. This design is often used in Spanish architecture homes, rustic cabins and Southwestern kitchen designs.
Pros and Cons
These are inexpensive countertops in comparison to other materials, as well as impervious to heat and stains. They can break or chip. Grout lines are difficult to clean and easily stain. It doesn't add value to your home; in fact, it is often considered a detraction unless you have a retro style home.
Formica Countertops
A popular luxury countertop of the 1960s and 1970s, this acrylic and resin countertop is an inexpensive choice. It is an authentic look if your plan calls for a retro kitchen design.
Pros and Cons
It comes in sheets available in a wide range of colors, designs and patterns. The sheets can be seamed together so they appear seamless. It is stain resistant, but is easily damaged by heat.
Deciding on the Best Countertop Materials for Your Kitchen
You have many options when it comes to choosing the best countertop material for your kitchen. Consider the décor style when deciding on the type of countertop that best fits your kitchen design.