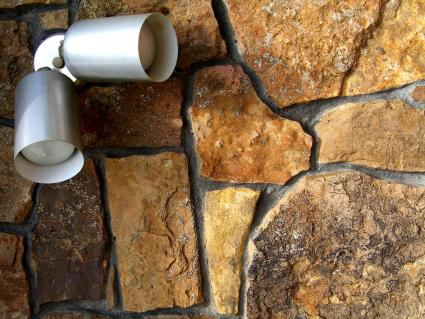 Exterior floodlights are a great safety feature to install on the side of your home. They can also be a potential drain on your pocketbook, and a nuisance to neighbors whose windows they may face. To get the benefits of a floodlight without these hindrances, consider installing motion detector lighting instead. Motion detector lights go on only when significant movement is detected, giving you peace of mind.
Purchasing Motion Detection Lights
Nearly all styles of outdoor floodlights are available equipped with a motion sensor. Look for a light that matches your home's exterior for the most unobtrusive placement, and purchase a light that allows you to position both the light and the sensor to the best spot for your needs.
Look for quality motion detector lights, like these.
Spot Lights
Get spot light style lights that can be installed on the corners of your property to reach more than 120 degrees in each direction. Some of the best rated spot lights include:
Carriage Lights
Carriage lights work well in older style homes. Install them next to doorways to light your way, or at the end of a driveway. Top rated carriage lights include:
Coach Lanterns
Coach lanterns are another option for older style homes where a modern sensor light will not blend in. Coach lanterns are small, elegant looking lamps that still include 4-sided motion detecting in most models. Top rated lanterns include:
Solar Powered
Solar powered motion lights can be mounted anywhere there is adequate sunlight. They come in a variety of styles, although most are fairly modern. Some styles are meant to be mounted along walkways, to help gently illuminate paths, others are closer to spot light ability.
Why Install Floodlights
If you live in a dark neighborhood, have a house set back from the street, or use a side door that is shielded from street lights on a regular basis, you know the benefit of an exterior light. Fumbling for keys in the dark and unable to see if there is a stranger or intruder nearby can be a difficult and unsafe practice.
Floodlights light up the general area around your entry ways. They keep intruders out of the dark, let you see where you are going and guide guests right to your door safely. But if you aren't home, or expecting guests, a floodlight that is on constantly can waste a lot of energy.
Most floodlights are designed to go on as soon as it becomes dark. This is beneficial if you return home late at night, but can be annoying to neighbors whose bedrooms face your light as they burn all night long. For these reasons, motion detector lights make a better solution.
How Motion Detector Lighting Works
Most motion detector lights have several settings that allow you to customize your lighting needs.
After Dark
Nearly all floodlights, including motion detection lights, have a built in sensor that automatically turns them on after dark. You don't need to worry about them going on and off all day wasting electricity when no additional light is needed, nor do you need to worry that you'll need to be home to turn them on. As long as the switch to the light is left in the "on" position, the light will automatically turn on as soon as it becomes dark.
Most motion detector lights will also have settings that allow you to customize how and when they go on. You can choose to have them turn on briefly as soon as it becomes dark, or shutting off within minutes. You can set them up to stay on all night or have them remain lit for only a pre-set amount of time, both when darkness falls or whenever the light is triggered.
Motion Detection
Whenever a second sensor on the light picks up significant movement, it will turn the light on. This movement must be triggered by something large, such as a person or a car; the wind blowing some leaves through your yard should not set off the motion detector.
Aim this sensor toward the direction a person would ordinarily be coming from. For example, if you have a winding front walk ending in a set of stairs, you may want two sets of lights. One set will be pointed at the walk, and will go off as a person rounds the corner closest to the house, illuminating the last few feet and the stairs. A second light located at the top of the stairs would be lit as soon as the person reached the top step. By positioning the light where you need it most you accomplish two things; you light the path of those welcome to the home and shine a bright light right in the face of someone you don't want coming in.
Light Up the Night Safely
Motion sensor lights can help illuminate walkways or scare away intruders, all without necessary intervention or control. Light up your entryways safely with a motion detecting light and feel safer in your own home.